While doing my 30for30 facts in anticipation of my 30th birthday, I wrote up today that I've driven to different places to see the bands I love. So why not blog about it? It's awesome just to get in the car and head towards a different city. You can leave behind things that are bothering you. You can get away from normal life for a bit. You get to experience the open road. While I might not have driven hours and hours away to get somewhere, I have been around places that border here in Indy.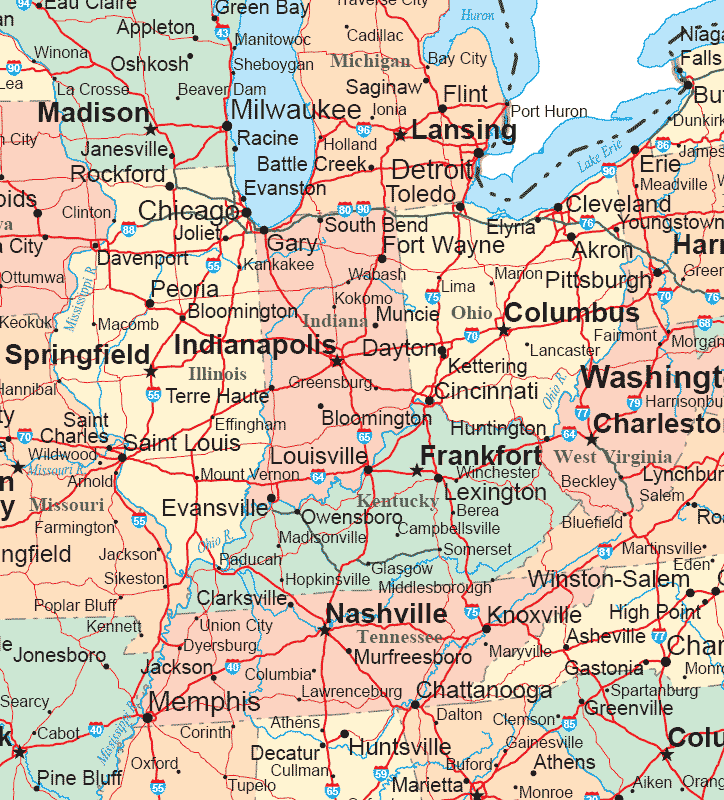 Starting with the city of Cincinnati, Ohio. I've experienced a few bands in that town. Bogart's is the venue most frequented by me there. I've see Lagwagon and No Use for a Name there, who both happened to have the band Yellowcard as an opener. Very strange to think about what would become of that band. I've even experienced the idea of a house show to see a band while I was down there. I knew Mustard Plug was playing down there, and I made the drive to see them. But when I got to the address it was in a neighborhood, and I thought I was in the wrong place. I got out and walked towards the place, where some guys asked me for a 5 dollar cover fee, and made my way into a small sweaty basement. There Mustard Plug would play, and I marked off my list "house show." Also I saw the Lawrence Arms play in some venue that I believe is closed down. They had the band, the Loved Ones, open for them, who would become a favorite of mine. Less Than Jake was seen down there during Thanksgiving break complete with confetti canons during the last song, which is one of my favorite songs, Brightest Bulb Has Burned Out Screws Fall Out. Good times seeing bands down there.
Across the way is the city of Covington,Kentucky, where I've experienced a couple of shows. The Madison Theatre was the venue I've attended for shows. Once again, I've seen the Lawrence Arms down there. This was a fun show because it was bands that the Lawrence Arms members in their different bands. Chris, the guitarist, did a solo acoustic opener. Then the Falcon, which was a side project at the time, took the stage. To give some variety, American Steel, took the stage, and were quite rocking. Then finally, the real band, the Lawrence Arms, entertained for a bit. It was quite the night. Also, I got to experience the band that is Nofx. This was such a crazy show. Moshing, breaking bottles, loud music, people getting made fun of, and just the awesomeness that is Nofx. I remember Teenage Bottlerocket opened for them, and they were a treat to listen to as well.
Just a short drive down I-37 is Bloomington, Indiana. There I've seen, my favorite live band, Against Me. They rocked the stage at Rhinos,and you haven't seen a band play like them. They just tear their the set list, without much talking. The music speaks for themselves, and this is a band that I think gets better each time I see them live. Recently, when they played in February, I thought they had this intensity that was missing from the band. Good times were had that evening. Also, I've seen the Lawrence Arms down there, and Bomb the Music Industry. When Bomb played, there had to be about 50 people, a very intimate show for them.
Finally, I've made my way on I-65 to the fantastic city of Chicago. Chicago is home to some of my favorite bands, and I know there are always shows going on that I would want to see. It's got a fantastic music scene, and when I saw that Alkaline Trio was playing with Rise Against in Chicago, their hometown, I had to go. So I made the drive by myself up there to see those bands. Also playing were Thrice and Gaslight Anthem. This was a few years ago, and no one seemed interested in Gaslight Anthem, so I would be interested to see them up there now, and see if more people like them, I'm guessing yes. But this show was fantastic, and made me a bigger fan of all the bands there. It's not often I can say that I enjoyed all the bands at the show. Rise Against just tore it apart, and Alkaline Trio sounded so much better in an inside setting than at Warped Tour, where I checked them out before. Another fantastic thing up there in Chicago is Riot Fest. I see the band, All, up there for Riot Fest, and they played longer than they were supposed to with the power cut off, and people singing along. That was such a sight to see.
There we go. Some of my adventures and road trips to see bands. What memorable trips have you made to see bands you love?